Leaving the lab but not the field: research-related careers in dementia
To mark Dementia Researcher's careers festival (part of National Careers Week in the UK), we spoke to four people who moved from a research career into roles including science communication and project management.
So you've done your science master's, PhD, or maybe even a postdoc. You survey the path ahead of you and think perhaps it's time for a change. You're still passionate about science, but a decades-long career in research or academia just doesn't appeal.
Fear not, because there are almost limitless opportunities to remain part of the dementia research world without actually doing the research.
To mark Dementia Researcher's careers festival (part of National Careers Week in the UK), we spoke to four people who left the lab behind to pursue roles as diverse as media relations, project management, research communication and strategic development.
The press officer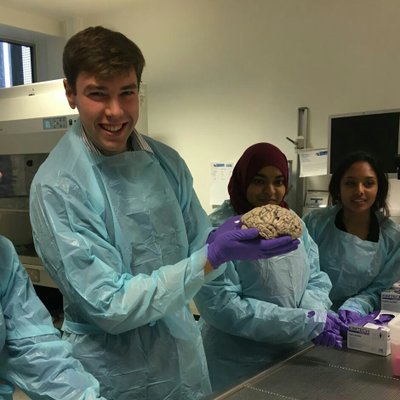 Ed Pinches is Science Communications Officer at Alzheimer's Research UK and sits on the committee of Stempra, an informal network of more than 500 science PR, communications and media professionals.
"I studied for my undergraduate degree in Biological Sciences at Durham University. As part of my studies I completed a 'business enterprise' module, which involved co-forming a proxy biotech company and offered insight into a world outside of the lab.
"During my final year, I was offered a research master's in Dr Elaine Fitches' lab. Using molecular and biochemical techniques I studied fusion proteins as bio-insecticides. During my time in the lab, which I did enjoy, I found that I just wasn't suited to a wet lab. I didn't have the manual dexterity required, and I found the fact that science doesn't always just 'work' frustrating. Combined with uncertainty about future funding, I realised I needed to pursue a new path. The people I met in academia were great, and my interest has always been in science so I knew I had to stay within the field.
"However, I had also always been interested in the media – writing for the student newspaper, presenting shows on the radio, and dedicating my social media to sharing scientific content to lay audiences. During my job search I looked around online for opportunities where I could marry my interest in writing and media work with science, and I applied for the role of Science Media Officer at Alzheimer's Research UK. I'm grateful to my colleagues who gave me this opportunity – looking back I was inexperienced, but I knew that with hard work I could succeed.
"My current job at Alzheimer's Research UK is as Science Communications Officer (Media). I'm passionate about communicating science to the public. I really enjoy working with scientists, communications professionals and the media to tell exciting and important science stories. The charity sector is varied, and it opens your doors to many things.
"My job is quite broad: on top of media responsibilities I help write blog posts, create novel social media clips, and work with our philanthropic and marketing teams to talk about dementia and the research the charity funds. At the end of the day I'm a people person, and I love working with a range of people across science, communications and charity. Forming and strengthening these connections through communicating science is what I enjoy most about the role."

The science communicator
Siân Gregory is Research Information Manager at Alzheimer's Society.
"I started out studying Biomedical Science at the University of Sheffield, specialising in cell biology in my final year with a mini research project in a human stem cell biology lab within their Centre for Stem Cell Biology. From that point on, I fell in love with studying cells in the lab and loved culturing cell lines and running experiments. When my project ended, I knew that I wanted to stay in science, so I volunteered in the lab I'd done my project in over the summer after I'd graduated. That autumn, my lab was able to offer me a job as a lab technician. I was really fortunate to be able to work not only as a technician, but also to conduct my own research projects. My lab specialised in growing high-quality, clinical-grade stem cell lines, so I learned everything from how to work in a clean room environment to quality control, and also got the chance to learn lots of research techniques like immunostaining, flow cytometry and cell sorting. As I moved to different roles between different labs, I worked on projects that explored how stem cells pick up mutations during culture, and differentiating different lines into neural progenitors. I also got the opportunity to teach research students different techniques and help supervise some of the brilliant master's students who joined our lab.
"Through working with research students in particular, I realised that I really loved science communication and helping others learn something new. I'd also been a volunteer for Alzheimer's Society outside of work for many years, and really loved what the charity was trying to achieve with the services it provided and the research that it funded. I was passionate to get more involved in the charity sector, so I moved initially from research into a job at Alzheimer's Society in the legacy fundraising team. I really enjoyed being a part of helping the Society raise vital funds, but missed research and science. When I saw a role in the research communications team that bridged the gap between fundraising and research communications, it felt meant to be as it allowed me to tie together my research experience and the fundraising experience I'd got so far.
"I'm responsible for communicating the fantastic research and researchers that Alzheimer's Society funds, specifically to our fundraising supporters and donors. It's an incredibly varied role and no two days are the same. It can include anything from writing lay summaries of new dementia research publications to make the latest breakthroughs more accessible to our supporters, to giving talks and presentations about dementia research and our research programme. I work with our researchers through interviews to capture their stories and experiences, and produce a bimonthly webinar for all Alzheimer's Society staff and volunteers that updates everyone on what our researchers are achieving and what impact that has on dementia research as a whole. I love talking to people about research and answering questions, so the presentations and webinars are the biggest highlight of my job.
"It's hugely rewarding to bring the people who are most interested in our research as close to it as possible, and to help support our incredible fundraisers. Making a difference for people affected by dementia is a huge motivator for me, as I genuinely believe that research will someday beat dementia. So it's incredible to be able to share that hope with our supporters.
"If you love talking about research and inspiring people with all the incredible things that research can achieve, then research communications is definitely for you. My advice would be to talk to as many people about your research as possible, whether it's an audience of one or in a group. Getting involved in events like Soapbox Science or Pint of Science is a great way to get started, but also sharing your research knowledge in a blog is another great way to practise. I'd also recommend volunteering your time to speak at any engagement events that you can. The atmosphere of people who are really interested in your work is brilliant and a real confidence boost."

The strategist
Dr Giovanna Lalli is Director of Scientific Affairs at the UK Dementia Research Institute.
"I am a neuronal cell biologist by background. I worked on membrane traffic and signalling pathways regulating axonal transport during my PhD at UCL, neuronal morphogenesis during my postdoc, and postnatal neurogenesis during my time as a group leader.
"A restructuring operation in the institution where I was working led me to re-evaluate my career options. That was a turning point, when I realised that the knowledge and skills developed throughout my career as a research scientist could actually be very effectively applied in other science-related roles. I joined Wellcome to oversee their molecular and cellular neuroscience portfolio – a very interesting learning experience which widened my horizons, allowed me to develop new skills, and substantially increased my network of contacts. It was very rewarding to play a part in directly supporting high-quality neuroscience research and a wide range of outstanding scientists – from PhD students up to Nobel Prize winners.
"In my role at UK DRI I work closely with the UK Director, Professor Bart De Strooper, to develop the scientific strategy of our institute, including 'horizon scanning' for strategic opportunities and partnerships. Together with my colleagues in the scientific affairs team I oversee cross-centre activities to promote collaborations on areas of shared interest, organise scientific events involving the national and international community, and coordinate our annual reporting to monitor the growth and progress of our institute. Last but not least, I also oversee training initiatives tailored to the needs of our members. There's definitely no time to get bored!
"As a scientist, the best thing about this role is the opportunity to interact with a vibrant community at the forefront of dementia research and liaise with a variety of national and international stakeholders for strategic opportunities. I enjoy embracing new challenges, 'stretching' into novel tasks as opportunities emerge, and feel that what I do can have a real impact in the fight against dementia. I am very fortunate to work with some talented, energetic colleagues united by this purpose – and to have fun too!
"Based on my personal experience, funding bodies will always be interested in good scientists with a wide perspective and a sense of the 'big picture'. Look out for job opportunities – even temporary roles – to make your way in, and more opportunities will follow. An internship or shadowing experience (for example in a research charity or even in your institution in research offices or similar departments) could be very helpful and make your CV stand out. If you are motivated, do not be shy – reach out to people working in the areas you are interested in and find some good mentors for advice."

The project manager
Dr Simon Young is Senior Project Manager at Dementias Platform UK (DPUK).
"I studied Maths at university, and after a brief stint as an actuarial trainee I decided to return to complete my education with a PhD in Statistics. I considered staying on in research at university, but following a mock interview organised by the research council that sponsored my PhD, I decided to apply to the advert used for the mock interview and got the job as a statistician with the chemical company ICI.
"After working in the chemical industry and then in insurance, I settled in finance for several years. My role developed from performing analyses on various different types of data to managing projects of increasing size and complexity, usually involving the redevelopment of corporate processes or the incorporation of wider sources of data and systems to improve corporate understanding and enhance decision making. I managed to escape from finance on a couple of occasions – one of those was to work on patient safety for a special NHS trust set up as a result of the Shipman murders, to develop a system for capturing and analysing errors in NHS-funded care. However, on both occasions I was offered interesting roles back in finance. But in 2018 I became disillusioned with the work I was performing and left to find more interesting and rewarding work elsewhere. I was offered an interview as a project manager for DPUK, which was exactly what I was looking for.
"I joined DPUK initially on a nine-month contract as project manager for an international data project. As part of a small team, my role broadened and I took on wider responsibilities within DPUK. The international project was also extended into a new phase, and I continued in the contract for 22 months. When DPUK obtained funding for a further five years from the MRC, there was an opportunity to apply for a senior project management role across all of DPUK's research packages, to which I was recently appointed. This will enable me to assist with the progress of DPUK across its key focus areas – such as our data repository, the DPUK Data Portal – and provide support for the development of research and understanding of dementia. While this is not as financially rewarding as previous roles, that is more than compensated for by how interesting the work is – and it is also considerably more worthwhile.
"My PhD research was very theoretical, and back then I wanted to get out to work on 'real-world' problems and data. I did this across different industries, often applying similar techniques to different types of data. However, my return to academia has involved working with real data on a very important real-world issue. In addition, DPUK's work involves collaboration with pharmaceutical companies, so my experience helps bridge any gaps between the two."
What to read next
In our latest podcast, we speak to Feyi Raimi-Abraham, founder of the Black Dementia Company.
Writing in The Conversation, DPUK's clinician-researcher Dr Ivan Koychev says now is the time to focus on tackling dementia before symptoms start to appear.
The couple share their experience of taking part in dementia research during the COVID-19 pandemic.